Find Something For Everyone At Thingz This Christmas!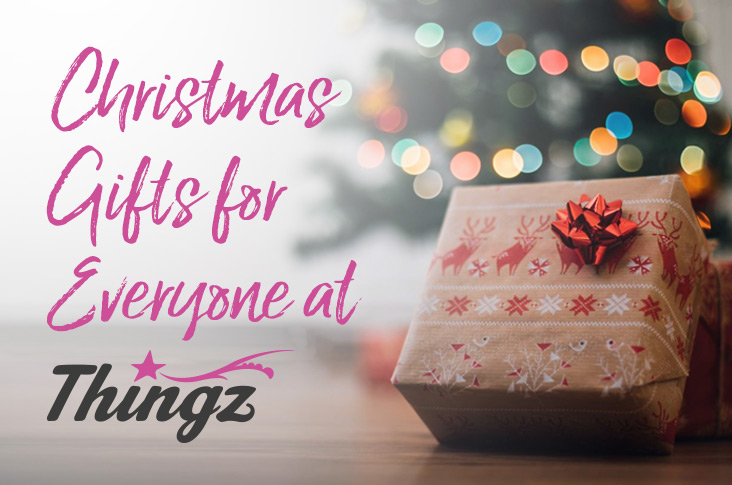 Christmas time at the shops can be filled with chaos and commotion. Let's be honest, being surrounded by Christmas crazed shoppers, can get a little stressful. It can be difficult if everyone in the family has different interests, to find a store that can cater for everyone. You end up having to trek from one side of the shopping centre to the other. Thingz can be the solution to avoiding the Christmas craziness. Make your Christmas shopping simple, by heading to Thingz as your one-stop-Christmas-gift-shop!
At Thingz, there's a gift for everyone!
Find marvellous gifts for Mum…
Humidifier with Colour Change feature: This humidifier can help create the perfect relaxing atmosphere for Mum these Christmas holidays. You can put a few drops of any type of essential oil in the humidifier to create a heavenly spell in any room. These also can have very calming effects that can help with getting to sleep.
Bamboo Stable Lap Cushion: This is a perfect item for those lazy Sunday mornings in bed, with a book, a cup of tea, or even an iPad. Alternatively, it may be great for answering emails and paying bills, whilst lounging on the couch. Make Mum's life a little comfier with this gift.
Delightful gifts for Dad…
Mighty Chef Airfry Oven: These have become all the rage in 2020, and we have to say, they are worth the hype! They make cooking very easy, and very, very delicious. Let's be honest, you can't really go wrong with fried anything. Without having to feel guilty about nasty oils. So, in the same way that Dad likes to claim he is a chef for cooking some sausages on the BBQ, let him have his Michelin Star moment with this new toy!
"Hard Quiz" Board Game: Aussie favourite comedian Tom Gleeson has made a board game version of the TV quiz show, Hard Quiz. The Christmas holidays is the perfect time to find out who in the family can be crowned the King or Queen of Trivia. (We all know Dads love a good competition!)
Stunning gifts for your sisters…
Smart Shot Selfie Phone Holder: get the perfect Instagram picture this summer with this nifty phone holder.
Flashing Disco Speaker: No matter what age, a girl can appreciate some great music and some fun lights to dance around in. This is the perfect gift to brings some excitement to a slumber party, for to jazz up a party in the backyard.
Brilliant gifts for your brothers…
West Coast Eagles and Fremantle Dockers T-Shirts, Hoodies and Tank Tops: Show some WA pride with some AFL merch! These are perfect, not only for game day, but also just as a top to wear to the gym or for training.
Sand proof beach towel: this beach towel is perfect for boys on the go, as it can be grabbed off the sand, without having to worry about bringing the beach home with you. (This is also a present for the Mums and Dads out there, cleaning up after these boys.)
Great gifts for the Grandparents
Ellipto Max: This seated elliptical machine can help with toning and strengthening the lower body. This type of low-intensity exercise is perfect for those more mature if your lives.
Classy Décor Silver Clock: This sleek, grand clock is perfect as a focal point in a space, to spruce up a room, but keep it looking sophisticated. Also, this is a large, easy to read clock, which we know can come in handy as we get older.
Browse more options for christmas gifts in our catalogue, and find a Thingz store near you, with our store locator!