Mother's Day Gift Ideas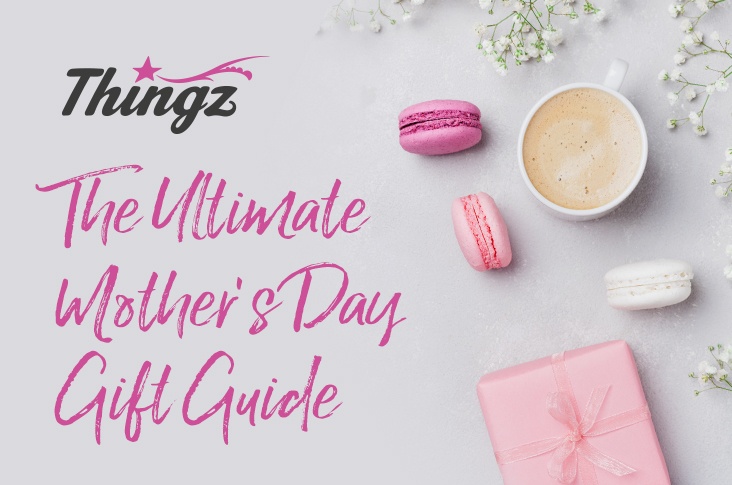 The Ultimate Mother's Day Gift Guide
This Mother's Day, let's all take the time to celebrate the incredible women in our lives and show our Mum's how much we appreciate everything they do for us.
The last year has been incredibly stressful for everyone; throughout 2020, our whole world went topsy-turvy. This was especially true for parents, as they faced an entirely new set of responsibilities. Whether it be simultaneously working from home while home-schooling, or the delights of explaining a very complex pandemic to small children, parents had a lot on their plate. Therefore, it is more important than ever to make this Mother's Day one of smiles, laughter, and spoiling!
With several Thingz locations across Perth, north, and south of the river, and down in Bunbury, the ideal gift is never too far away. Our gift stores have an extensive variety of products in stock, just in time for Mother's Day, spanning home décor, kitchen homewares, Manchester, and more!
Thingz has put together some ideas and inspiration for gifts this Mother's Day to get you started on picking out the perfect Mother's Day gift…
Give the Gift of Self-Care
Often our Mums are so focused on looking after everyone else that they forget to put themselves first every once in a while. For the Mum that needs to take a beat, relax and invest some time back into her self-care, we suggest the following gifts:
$33.00
Whether your Mum wants to kick back on the couch with a book or take a minute to meditate in her bedroom before going to sleep, a Humidifier is excellent for creating a relaxing atmosphere. Many have found that having a humidifier in your bedroom can improve sleep quality.
Using the air conditioner or heater at night can make the air in your bedroom very dry. A humidifier pumps moisture back into the air, preventing the airways in your nose and mouth from drying out overnight. This may help you to breathe more evenly and may even reduce snoring. Also, calming essential oils can be put into the humidifier's water to diffuse around the room slowly. For more information on the benefits of humidifiers for sleep, see this article.
$12.99
Speaking of calming essential oils, you won't have to look far for quality essential oils to use in your humidifier, with Thingz's wide range of Aromist Essential Oils now available.
Our essential oils are available in scents including:
– Peppermint
– Sandalwood
– Lemongrass
– Lavender
With special pre-mixes available for varying purposes such as:
– Breathe Easy: Eucalyptus, Lavender, Peppermint, and Scotch Pine
– Relax: Lavender, Cedarwood Virginian, Geranium, and Frankincense
– Headache: Lavender, Peppermint, Marjoram, Melissa, and Chamomile.
Essential oils can be used in many different ways, including essential oil burners and diffusers, and as treatments for your skin and hair. Your Mum can put a few drops in her bath to make the experience even more relaxing, or simply dab a little bit on her wrists and behind her ears to experience the delightful natural scents. To learn more about the benefits of essential oils, check out this article.
Refresh Her Space with Home Décor
Take the opportunity this Mother's Day to give your Mum something she wouldn't think to buy for herself – something beautiful for her home! Have some fun styling these new items with your Mum…
From $18
As you may have seen, since lockdown last year, house plants are having a major renaissance, and interior designers are always looking for new, interesting ways to style them. If your Mum is a fan of house plants, Flint Baskets are perfect for adding a boho-chic vibe while displaying her much-loved plant babies. Alternatively, these baskets are the perfect size to store Mum's throws and blankets in the lounge room.
Throw Blankets and Cushions
From $29.99
By simply adding a new throw blanket or cushion, you can make a living area or bedroom seem much more stylish and polished. Thingz gift stores have a huge variety of cushions and throw blankets – available in different fabrics and sizes.
For example, the velvet feather-filled cushions or Animal throws.
Make a note of the existing colour scheme in your Mum's house, and find a cushion or two and a blanket that fits in nicely. Your Mum will find it so thoughtful that you paid attention to her style preferences! Check out all the cushion and blanket options we have available in our online catalogue.
$19.99
Create a montage of your favourite memories with Mum with our collage frames. From just $19.99, they're the perfect way to preserve and cherish your fondest celebrations.
Check out Mother's Day Gifts in Store Today!
Save yourself the trouble of wandering around the shops, unsure of what you are looking for this Mother's Day and head straight to Thingz. Find your closest Thingz gift store with our Store Locator.